Rockwall Pop Up Head Repair and Replacement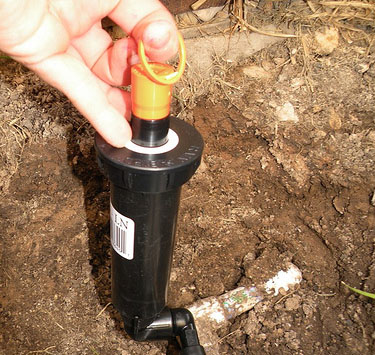 Pop up sprinkler heads are extremely common in the irrigation world, and chances are that you currently have pop up heads in your lawn. What's also common is for pop up sprinkler heads to get jammed, broken, clogged, or experience other issues. Luckily, many common sprinkler head problems are easily fixed with the help of a professional. Say hello to our Rockwall pop up head repair experts.

We fix pop up sprinkler heads on a daily basis. Here are some common sprinkler head problems that we encounter:

Clogged sprinkler heads

Broken or cracked nozzles

Improperly adjusted heads

Stuck valves or other mechanical parts

Pop up heads that won't pop up

If you're experiencing any of these issues and don't want to venture into the time-suck of DIY pop up head repairs, then give us a call. We'll get out to your house as soon as we can and repair your sprinkler heads so that you can go back to watering your yard as usual.

We Service All Kinds of Sprinkler Heads
Directional spray heads

Micro heads
Pop up heads

Rotator heads

Impact rotors

Gear-driven rotors

Bubblers
Multiple stream heads

We Service All Major Brands of Sprinkler Heads

We don't discriminate when it comes to which sprinkler head brands we service. From the big brands to the little guys, we do it all.

Rain Bird

Orbit

Saturn

Voyager
Toro

Hunter

K-Rain

Ready to make some upgrades to your sprinkler system? Call us today for pop up sprinkler head repair in Rockwall, Texas.